Note: movie release dates change considerably, which means that some films may be released several days or weeks before or after the date in the original announcements.
Movie reviews are linked to month-by-month entries and in the movie reviews index. When we receive posters, trailers, credits or official site details we put those up on info pages awaiting review.
---
Related Events
---
Ice Age Live! A Mammoth Adventure
Newcastle 25th March -- 27th March Newcastle Entertainment Centre
Brisbane 1st April -- 3rd April Brisbane Entertainment Centre
Melbourne 8th April -- 10th April Hisense Arena
Sydney 15th April -- 17th April Allphones Arena
Perth 22st April -- 24th April Perth Arena

The first show of its kind to combine exceptional ice skating, aerial arts, puppetry and film, Ice Age Live! A Mammoth Adventure will be the coolest event since the mammoths came back. Sid, Manni, Diego and of course Scrat will be appearing as life-sized 3.6-metre-tall figures in an awe-inspiring journey with a new story based on the first three films from one of the top-grossing international animated film franchises of all time.
The show is co-directed by the brilliant mind behind the Cirque du Soleil productions, Ka and Dralion, Guy Caron, with story, music and lyrics created by Ella Louise Allaire and Martin Lord Ferguson (Cirque du Soleil, Holiday on Ice and APM Music).
For more information: www.IceAgeLive.com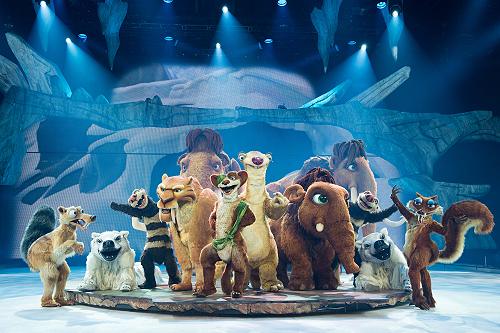 Anticipated Movies
---

Due for release 7 th
web site/ trailer /no more information

---

The Huntsman: Winter's War

The fantastical world of 2012's global hit Snow White and the Huntsman expands to reveal how the fates of two characters, The Huntsman Eric and Ravenna, intersected before they met Snow White. Chris Hemsworth and Oscar(R) winner Charlize Theron return to their roles in a new epic action-adventure, THE HUNTSMAN.

---

Due for release 14 th
web site/no more information

---

Michelle Darnell (aka The Boss)

Melissa McCarthy (Bridesmaids, The Heat, Tammy) headlines MICHELLE DARNELL as a titan of industry who is sent to prison after she's caught for insider trading. When she emerges ready to rebrand herself as America's latest sweetheart, not everyone she screwed over is so quick to forgive and forget.

---

Due for release 21 th
no more info


---

Mr Right

Anna Kendrick is unlucky-in-love Martha. When she meets Francis (Sam Rockwell) he seems like the perfect guy -- and if you don't count that he's a hitman on the run from crime cartels, he may just turn out to be MR RIGHT.

---

Due for release 21 th
Trailer / web site / photos, links, more




---

Whiskey Tango Foxtrot (2016)

Whiskey Tango Foxtrot is based on the book The Taliban Shuffle: Strange Days In Afghanistan And Pakistan by journalist Kim Barker.

---

Due for release 21 st
web site / trailer / no more info




---

Eddie the Eagle (2015)

The inspiring exploits of Michael Edwards, better known as "Eddie the Eagle," the most famous ski jumper in Britis hhistory.

---

Due for release TBC th
no more info


---

Blood Father

Mel Gibson returns to the big screen in the edge-of-your-seat action thriller. BLOOD FATHER is based on the novel by Peter Craig (scriptwriter of The Town) and stars Gibson as John Link - an ex-con who is estranged from his teenage daughter, Lydia. When she is caught up in a drug deal gone wrong, Lydia is forced to reach out to Link. Only he can protect her from the drug dealers who want her dead.